Port Mansfield, Texas - It's a Shore Thing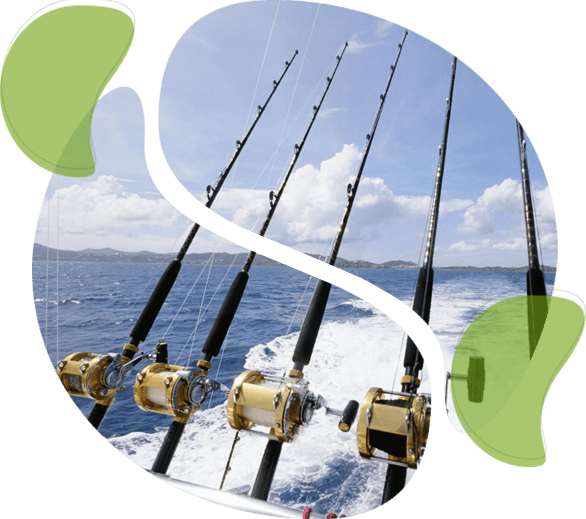 Angling for a Good Time?
Follow the Fish!
From Port Mansfield Harbor, you can fish at two of the finest saltwater fisheries in the country. You can also fish the abundant, shallow saltwater of the Laguna Madre for redfish, speckled and sand trout, flounder, and more! Fishing can be done easily by small boat, wading, or casting a line from shore or public fishing piers located at both the northern and southern edges of town.
The Gulf of Mexico is a short 9-mile boat ride from Port Mansfield. You can catch trophy-size red snapper, tarpon, sailfish, marlin, kingfish, mackerel, ling, pompano, and others. Sports editors have named Port Mansfield one of the "10 best fishing areas in the country." Numerous experienced fishing guides and charters are based in Port Mansfield to help you land one.
Port Mansfield is surrounded by thick, virtually untouched, lightly populated brushland, and the close surrounding area offers an unmatched variety of wildlife for your viewing and enjoyment. Friendly deer roam the town. Flocks of turkey and coveys of quail are abundant and can be spotted all over town. The majestic nilgai, while mostly elusive are frequently spotted in the area.
Some 487 different species of birds migrate through or make their home in the Lower Rio Grande Valley and Port Mansfield, making the area a premier birding spot. These beautiful birds can be seen up close, on land, or via water transportation.
You can't miss the graceful, playful dolphins who make their home in the majestic Laguna Madre when traveling on a boat. Don't forget to bring your camera to save and share the beauty of nature you find here.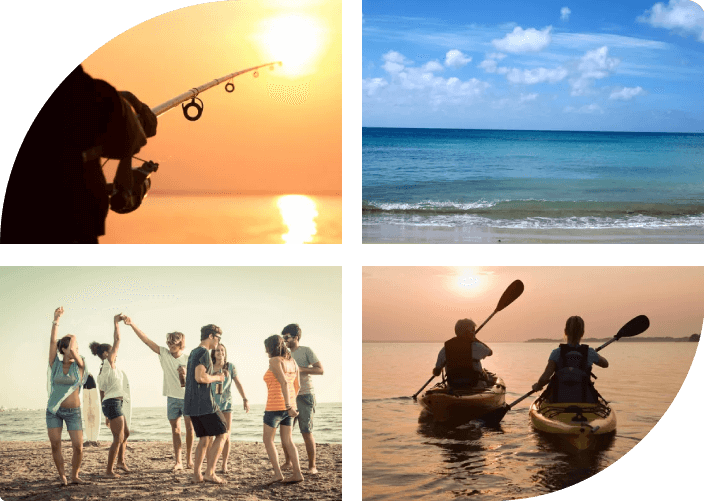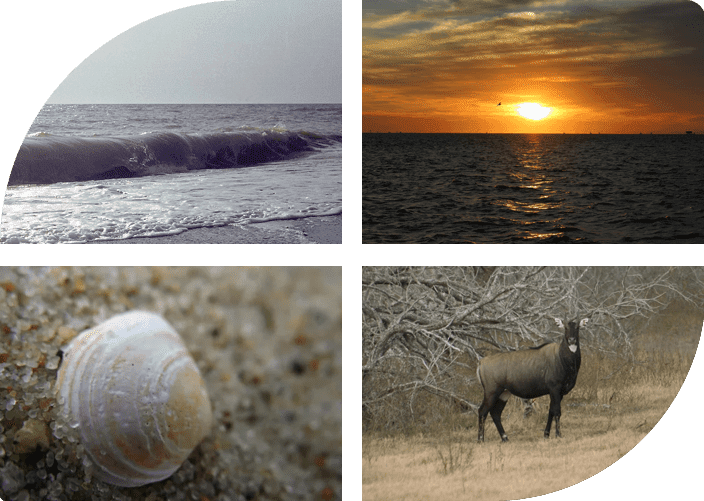 Gateway to Coastal Adventures
You can take to the water any number of ways: the shallow protected waters of the bay are ideal for windsurfing, sailboarding, kayaking, and canoeing.
Take a boat ride 9 miles east to the Port Mansfield channel, which separates the North and South Padre Islands. Anchor your boat and enjoy the peaceful beaches, surf fishing, shell hunting, camping, beach combing, and treasure hunting. Many adventures await those who make the trip to the islands. Reach out to us for more information.
Diverse, affordable lodging options are available in Port Mansfield. On-the-water or off-water homes and condos are available for rent for a few days to a few months. Overnight accommodations are also available at fishing lodges and Sunset House Motel.
Please click on the following links for rental options:
Several excellent restaurants are located in Port Mansfield. Of course, fish, and seafood are on the menu, along with burgers and Texas barbecue. Some of the restaurants will even cook your catch for you!
Port Mansfield is a unique place, and its slower pace and small-town friendliness with nature at your doorstep is an experience for a lifetime. You will want to return for relaxation and recreation with friends and family. It's a shore thing!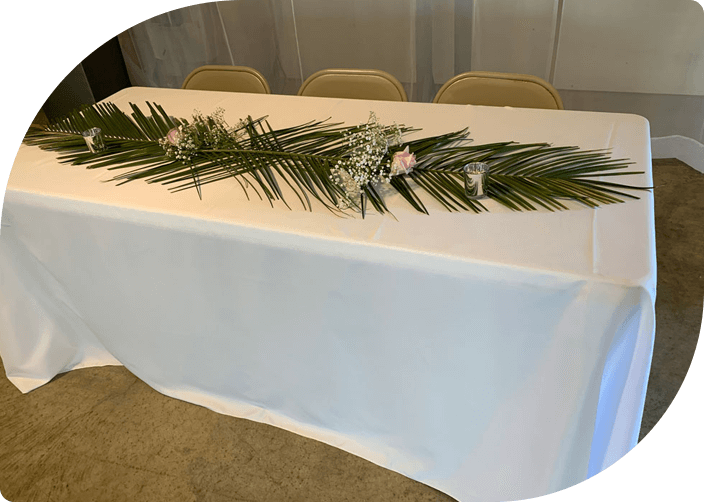 Port Mansfield Chamber of Commerce Event Center
The Port Mansfield Pavilion, built in 1999, is a 7200 sq ft steel building with a 576 sq ft kitchen attached. An office area and mezzanine upstairs take up the west 20 ft of the building, with another office, large restrooms, and a storage area below.
The event center is home to many fishing tournaments throughout the year, but is also a great venue for weddings, parties, fundraising events and CEU training. The event center is equipped with a full commercial kitchen, serving area, and bar. There are five large overhead doors that can be left open during your event if you want to take in the view of our beautiful harbor. They can also remained closed if you would like your event to be climate controlled with our recently installed HVAC system. The event center is also equipped with a brand new high quality state of the art wireless and Bluetooth capable PA system. We also have a projector that is placed on a ceiling hung platform and is hardwired to our PA system.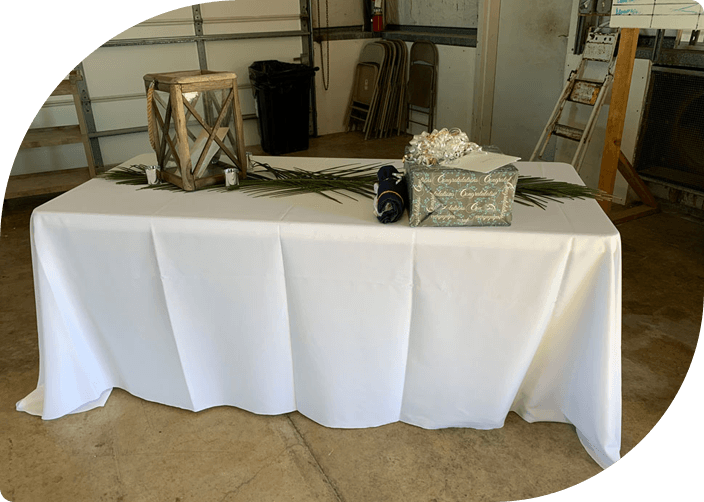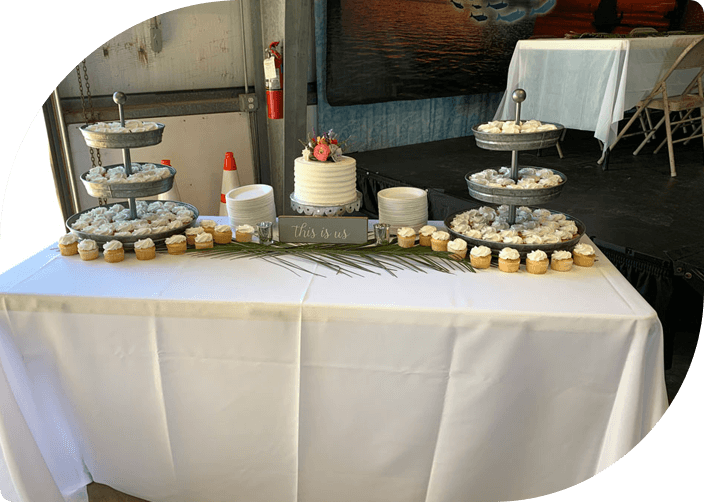 We currently have seating inside for 260. Scales are available for tournaments to weigh fish ranging from a few ounces up to 1200 lb rated scale on the dock. The scales are calibrated annually in July by a licensed firm. The lighted dock is 91.5 ft long, with a deck of matching length on the upper level. The deck is surrounded by safety railing, and even with two sets of aluminum bleachers, there is plenty of walk-around room, great for watching the harbor activity and the catches that are unloaded during fishing tournaments. The dock is equipped with a "Pumpout Station" for larger vessels and a 120VAC 15A duplex receptacle.
Our dock was rebuilt in 2013, the pavilion roof was replaced in 2015, the commercial kitchen was fully upgraded in 2016, and air conditioners for the main building were installed in 2018. In 2019 stone siding was constructed around the exterior, make-up air ducting and equipment were installed in the kitchen, and all overhead doors were sealed and insulated. The pavilion was kept at 76 degrees during the PMFT in July last year due to the improvements made, even when full of people. This year's upgrade will be a new dock on the east side seawall and a permanent deck canopy. The funds for these improvements come from Willacy County Commissioners Court through hotel/motel taxes collected in Port Mansfield. Upkeep and pavilion maintenance is funded by memberships, sponsors, and our annual PMFT.
The pavilion is available for rent for many types of events. Call our office at (956) 944-2354 to reserve your date!